Our Services
Short Term Rehabilitation:
Because coming to a rehab center can be an unplanned and fast paced experience, we try our best to communicate with patients and families in a manner that helps to reduce the stress that often accompanies this experience. Our team of nurses, therapists and support staff work closely together to provide individualized care that meets each patient's specific needs. We work to see our patients recover in a timely manner and be restored to their prior level of function, ensuring a smooth transition back into the tasks of daily life.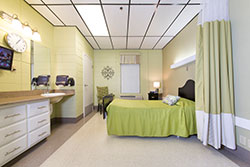 Our therapy team consists of Physical, Occupational and Speech Therapists and is passionate about bringing the latest programs and techniques to our patients. We utilize standard therapy modalities combined with a comprehensive therapy program for strengthening, balance training, pain reduction, wound healing, and increasing range of motion. Our Speech Therapist incorporates swallowing, language, and cognitive procedures to meet the needs of our patients.
Our rehabilitation unit is designed to provide a comfortable environment in a healing atmosphere to meet each individual's needs. Patients may receive therapy 5-6 days per week depending on the physician's treatment order.
Long Term Care:
In addition to rehabilitation services, we provide Long-Term Care. We are always looking for more innovative ways of caring for our residents.  We offer both private and semi-private accommodations with transportation to and from medical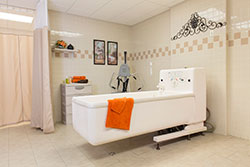 appointments for your convenience. We also provide residents with a creative variety of activities to keep them well socialized. Activities also are individualized based on the resident's wishes.
We have a beautiful dining area where we encourage families and friends to gather to share a meal and some conversation with residents whenever possible.  We also provide free wireless Internet access so residents can stay connected with friends and family. This Internet access also ensures visiting family and friends stay connected to work and email.
Respite Care:
Residents who come for respite care services enjoy all the amenities provided to our full-time residents, including a private or semi-private room, daily housekeeping and laundry services, daily activities, and daily meals including continental breakfast and snacks. These amenities ensure that each resident receives quality care in a comfortable environment.
Hospice Care:
Our hospice teams and facility staff work together to provide the most beneficial, full-spectrum care for the resident. Hospice is a holistic medical and philosophical approach to care that affirms life, while accepting death as life's natural end, focusing on quality of life over length of life. Our staff works to make sure that each specific need is met by providing the best physical comfort, emotional and spiritual support, and developing a personalized treatment plan that is unique for each patient.